This recipe is compliments of Dish Magazine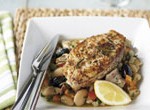 Ingredients
4 x 200 gram snapper steaks, skin on
2 tablespoons olive oil
1 teaspoon finely chopped rosemary
2 cloves garlic, crushed
1/2 teaspoon paprika
Sea salt and freshly ground pepper
16 large black olives
Beans
2 tablespoons olive oil
1 teaspoon finely chopped rosemary
1 clove garlic, finely chopped
1 carrot, peeled and diced
1 onion, diced
1 stick celery, thinly sliced
100 grams streaky bacon, sliced
2 x 400 gram tins large butterbeans, drained
11/2 cups fish or chicken stock
1 tomato, diced
1/4 cup chopped flat-leaf parsley
Squeeze of lemon juice
Sea salt and freshly ground pepper
How to cook
Beans: Heat the oil in a sauté pan and cook the rosemary, garlic, carrot, onion, celery and bacon until tender. Add the beans and stock and simmer for 5 minutes. Remove from the heat and stir in the tomatoes, flat-leaf parsley and a squeeze of lemon juice. Season.
Fish: Combine the oil, rosemary, garlic and paprika and rub onto both sides of the fish. Season. Heat a large sauté pan with a little oil. Add the fish and olives and cook for 3-4 minutes each side or until just cooked through. Cooking time will depend on the thickness of the fish.
To serve: Spoon the beans into shallow soup plates and top with the fish and olives. Garnish with lemon wedges. Other firm white fish such as hapuku or monkfish also work well in this recipe.
Serves 4