Community
Harbourside Market has major programmes underway that involve the Wellington community. These programmes include:
Market Car Parking Fundraiser
The Food Partnership Programme (FPP)
Environmental Sustainability Programme – underway – see Market News for more info
Market Car Parking
Car parking update
Thank you for your interest in the Harbourside Market Car Park Community Fundraising Programme. 
Due to the large number of community groups interested in participating, we now run a quarterly ballot system.  Applications from interested parties for the January – March 2020 period will be accepted before the end of November 2019.
Please apply via our contact page.
 Best of luck with your fundraising!
Food Partnership Programme
This is a partnership programme between KAIBOSH FOOD RESCUE and the market stallholders. Kaibosh is New Zealand's first food rescue charity and fills the gap between retailers with surplus food and the charities who need it most by rescuing food that is good enough to eat, but not good enough to sell. In the past years they have rescued over 294,000kg of quality surplus food and redistributed it to over 85 charities in the Greater Wellington region, providing the equivalent of over 840,000 meals worth of food! The Harbourside Market Food Partnership Programme Stallholders provide KAIBOSH with unsold, fresh produce from the market on a weekly basis to be sorted and distributed to charities for collection. Each weekend stallholders donate up to 1,000kg of food to KAIBOSH! This programme is a great example of how the marketplace is working to support the local Wellington community.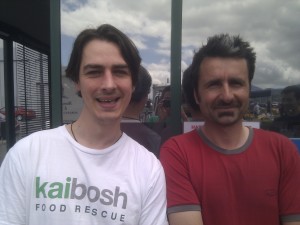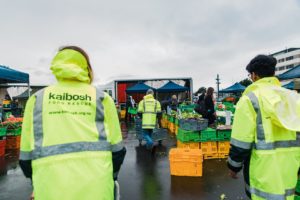 Other Community Initiatives
The Market Office is interested in involving the community in as many ways as we can with the market so if you have any ideas on how we can bring the market closer to the community, please let us know.
Market open Sundays
7:30am - 1pm Winter, 7:30am - 2pm Summer.
Become a Stall Holder
Interested in becoming a stall holder?
Get in touch with our market team today
Stall Map
Where are we?
The market is located on the corner of Cable St & Barnett St beside Te Papa.
Get Our Email Updates