Opening Hours: Open every Sunday Morning... 7:30am - 1pm in Winter, 7:30am - 2pm in Summer.
Get Our Email Newsletter
The Oldest and Most Popular Market in Wellington
Harbourside Market is the oldest and most popular market in Wellington. A market of some sort (initially situated in the centre of Allen St and Blair St, just off Courtenay Place) has been serving customers in this area since 1920.
When the market located to its current position it was often referred to by several different names; Waitangi Park Market, Te Papa Market and Chaffers Market. The market has undergone a name change and is now known as Harbourside Market. Read more about our history.

Vegetables, Fruit, Herbs, Flowers, Fresh Fish, Modern Deli Meats, Bread & Confectionary, Fresh Cheese, Preserves and Chutneys, Nuts, Eggs, Homemade Cordials, Delicious Hot Foods Available, Great Coffee and more...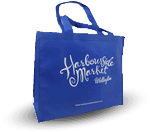 We sell reusable market bags helping to eliminate plastic bag usage. Available from Market Kiosk for $3.
Parking in Wellington can be challenging, but come to Harbourside and we'll only charge you $2 for 1 hour between 7am-1pm!
Where are we?
The market is located on the corner of Cable St & Barnett St beside Te Papa.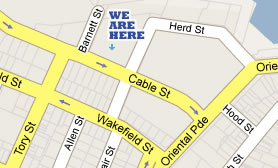 Become a Stall Holder
Interested in becoming a stall holder?
Get in touch with our market team today
Market News
SUNDAY June 26th 2016. This Sunday the "Wellington Marathon" is happening which affects Harbourside Market a little. 1 lane of Cable Street is closed to traffic until all the races have passed. This is usually around 9.45am-10am. There will be periods where you wont be able to access our car park so I suggest you [...]
Read more
This recipe is provided by Richard Till and may be found in his latest recipe book "Richard Till makes it easy"
Read more
Twitter
Follow us on twitter
Got a feeling Harbourside Market is going to be a great place to be tomorrow !