We re-use and recycle our packaging as much as we can. Harbourside Market is seeking to eliminate the use of plastic bags at the market by the end of the year. Reusable market bags can be purchased from selected stallholders and the Harbourside Market Kiosk at market day for $3.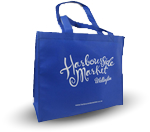 Cutting back on plastic bag use is one way every individual can make a difference.  Habourside Market is doing its part by eliminating plastic bags from the market, and we hope you will take the important step of bringing your own reusable bags.
Frequently Asked Questions about Plastic Bags
at Harbourside Market
The basics:
By the end of 2009,  Harbourside Market stallholders will  only dispense bags that are fully recyclable. Plastic bags do not meet this criteria and will no longer be distributed at the market.
Plastic bags have detrimental impacts at every step in their life cycle, such as the extraction of the petroleum and natural gas used in their production, the energy consumed and pollution generated in the manufacturing process, and the fact that most of them end up in the landfill.
Will there be a charge for the new bags?
Harbourside market spunbound bags are available from selected stallholders and at the Harbourside Market kiosk as of mid July for $3 a bag.
What's wrong with plastic bags?
In a sustainable food system, it's not only the food that's important, but also how it is packaged and carried home. Plastic bags are one of the most ubiquitous products in the world, and over a million of them leave the Harbourside Market each year. We want to change this and make the market a better place for our environment and we hope you will support this move to the Harbourside market recyclable bag.
What is the Harbourside Market Spunbound Bag made from?
Spunbond fabrics are produced by depositing extruded, spun filaments onto a collecting belt in a uniform random manner followed by bonding the fibres. Bonding imparts strength and integrity to the web by applying Calendering process (= uses heat and high pressure applied through rollers to weld the fibre webs together at speed).  Since the fabric production is combined with fibre production, the process is generally more comfortable than when using staple fibre to make nonwoven fabrics.