This recipe is courtesy of Dish Magazine, Issue 10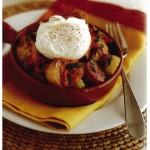 This is a fabulous brunch recipe and while it may look complicated it's actually very easy.  The garlic, potatoes, onions and sauce can all be prepared 1-2 days ahead.
Ingredients:
1 whole head of garlic
600 grams medium sized waxy potatoes
400 grams chorizo or other cooked meaty sausage
2 red onions
2 tablespoons olive oil
1 teaspoon cumin seeds
Red Sauce
¾ cup fresh, good quality bread crumbs
2 red capsicums, roasted and peeled
2 cloves garlic, crushed
Pinch chilli flakes
1 teaspoon sweet smoked paprika
½ teaspoon ground cumin
½ teaspoon salt
1/3 cup olive oil
2 tablespoons red wine vinegar
To Serve
4 eggs
¼ cup chopped flat-leaf parsley
How to cook
Preheat the oven to 200°C.
Break the garlic into individual cloves, leaving the skin on.  Toss with a little oil, wrap in tin foil and roast in the oven until tender.  Cool then peel and set aside.
Cook the potatoes in well-salted water until just tender.  When cold, cut into bite sized pieces.  Heat the oil in a sauté pan, add the onions, cumin and ½ teaspoon of salt and cook until the onions are tender.
Red Sauce: Place the ingredients in a food processor and blend to a smooth sauce.  Season.
Heat a little oil and a knob of butter in a sauté pan and add the potatoes.  Season and cook until golden.  Slice the sausages and add to the pan and cook for another 5 minutes.  Add the onions and whole garlic cloves and allow to heat through.
Poached eggs: Heat a pan of water with a dash of vinegar to simmering point.  Break each egg into a ramekin and tip into the water.  Poach until cooked to your liking.  Remove with a slotted spoon and drain on paper towels.
To Serve: Heat the sauce and stir in the parsley.  Divide the sausage and potatoes between warm serving dishes.  Pour over the sauce and top each serving with a poached egg.
Serves 4